Sensational Sharma Seals Stunning Win at Maybank Championship
---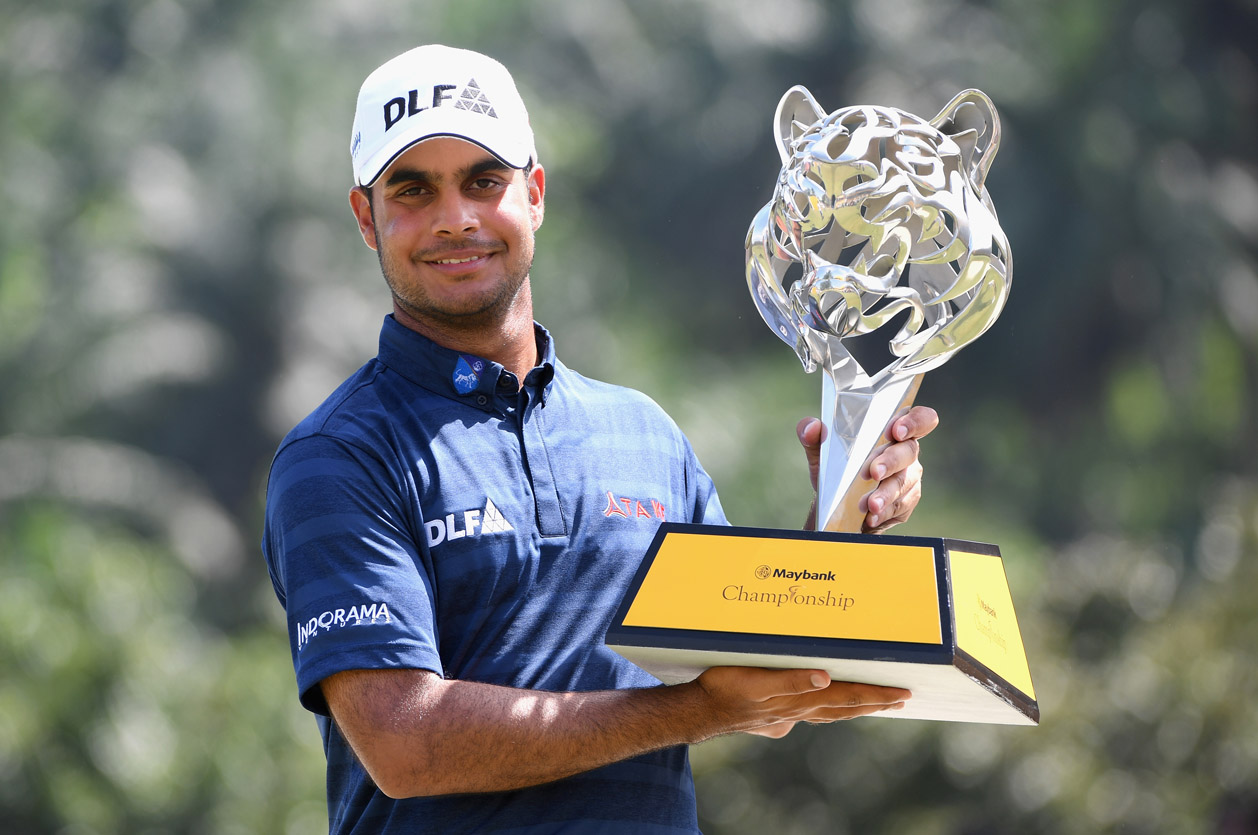 A red-hot Shubhankar Sharma of India fired 10 birdies for a remarkable 10-under-par 62 to claim a stunning two-shot victory at the US$3 million Maybank Championship on Sunday.

At the age of 21, the talented Indian overcame a four-shot deficit with a dominant display to clinch his second Asian Tour and European Tour title with a winning total of 21-under-par 267 in windy conditions at the Saujana Golf and Country Club.

In his fourth start since winning the Joburg Open in South Africa in December, Sharma produced a sensational final round where he made five birdies in each half which included clutch birdie putts on 17 and 18.

He defeated co-overnight leader Jorge Campillo of Spain, who eagled the opening hole before returning with a 68 to settle for second place, while Pablo Larrazabal and Ryan Fox of New Zealand finished in third place after posting identical 66s.

Khalin Joshi of India, who is Sharma's roommate this week, finished in a share of fifth place alongside Japan's Ryo Ishikawa, Hideto Tanihara, Nino Bertasio and world number 47 Dylan Frittelli of South Africa.

Sharma produced a great comeback after struggling in the opening two rounds where he was tied in 48th place at the halfway stage. A third round 66 put him within four shots of the lead and he charged into contention on the final round when he got off to a hot front nine.

"I played pretty solid and it wasn't easy because it was windy. I kept pushing the whole day. I knew I had to make a lot birdies to catch the leaders. I made a lot of birdies in the front nine and just continued on the back.


"To be honest, I wasn't thinking about the leader board. I wanted to set a target in my mind and try to achieve it. On the 13th I knew I was somewhere near the leaders but on 16 I knew I had a two-shot lead. I told myself if I can make two more birdies, that would give me a good chance to win," said Sharma.
He marked his card with further birdies on 11, 13 and 14 which gave him a two-shot advantage on the 16th hole as he romped to victory in emphatic style to become the first Asian to win the third edition of the Maybank Championship.
The victory earned him US$500,000 and moved him to the top of the Asian Tour's Habitat for Humanity Standings and on the Race to Dubai on the European Tour.
Sharma added, "I'm over the moon. The last two months have been fantastic for me. I'm playing in The Open championship this year, so I can't ask for anything more. Whatever happened today was fantastic."
He also talked about his friendship with Malaysian golfer Gavin Green and was happy that the latter would be playing on the European Tour too.
"Gavin is a great friend. We know each other for three years now. He is a great guy and he is obviously a Maybank Ambassador and the reigning Order of Merit champion. He is a great guy and a great player. We've been good friends and he will also be playing on the European Tour, so I will have some good company," he said.
Gavin who said that he had an average outing this week finished joint 39th posted a final round one-over 73 for total 9-under 279. One stroke back was the other Malaysian Amir Nazrin who shot a 4-under 68 for total 8-under 280 and joint 50th position.
During the prize-giving ceremony, Datuk Abdul Farid Alias, Group President & CEO of Maybank confirmed that the Maybank Championship would be back for the fourth edition 2019.
Final scores
267 S Sharma (Ind) 70 69 66 62,
269 J Campillo (Esp) 69 66 66 68,
270 R Fox (Nzl) 68 68 68 66, P Larrazábal (Esp) 70 70 64 66,
272 N Bertasio (Ita) 68 65 70 69, D Frittelli (RSA) 69 66 66 71, K Joshi (Ind) 67 70 65 70, R Ishikawa (Jpn) 74 66 63 69, H Tanihara (Jpn) 71 64 68 69,
273 B Henson (USA) 69 68 65 71,
274 P Peterson (USA) 69 70 65 70, M Kieffer (Ger) 69 66 71 68, R Wattel (Fra) 67 73 65 69, M Pavon (Fra) 70 67 70 67, L Westwood (Eng) 72 62 70 70, J Luiten (Ned) 72 68 66 68,
275 A Sullivan (Eng) 71 66 71 67, S Jamieson (Sco) 68 69 69 69, D Lipsky (USA) 67 68 71 69, P Khongwatmai (Tha) 68 65 70 72, M Lorenzo-Vera (Fra) 66 71 67 71, B Hebert (Fra) 69 70 65 71,
276 T Detry (Bel) 68 68 69 71, P Pittayarat (Tha) 72 66 70 68, S Kapur (Ind) 70 67 67 72, D Kataoka (Jpn) 68 67 72 69,
277 C Paisley (Eng) 65 69 72 71, G Bhullar (Ind) 68 71 66 72, K Aphibarnrat (Tha) 69 70 72 66, A Johnston (Eng) 67 71 68 71, P Marksaeng (Tha) 71 65 67 74, J Pagunsan (Phi) 68 70 73 66, Y Miyazato (Jpn) 71 67 66 73,
278 J Colomo (Esp) 71 67 70 70, D Boonma (Tha) 70 66 71 71, A Atwal (Ind) 67 71 68 72, C Shih-Chang (Tpe) 68 69 73 68, D Horsey (Eng) 66 70 72 70,
279 S Vincent (Zim) 71 68 71 69, Y Ikeda (Jpn) 70 64 71 74, G Green (Mas) 68 69 69 73, T Jaidee (Tha) 69 67 69 74, A Otaegui (Esp) 69 71 69 70, P Meesawat (Tha) 74 66 70 69, J Janewattananond (Tha) 68 71 70 70, S Gallacher (Sco) 70 65 73 71, S Kjeldsen (Den) 69 67 71 72, S Lee (Kor) 67 69 71 72, T Bjørn (Den) 68 68 69 74,
280 J Randhawa (Ind) 67 71 71 71, M Tran (Vie) 73 65 70 72, G Storm (Eng) 72 68 69 71, A Nazrin (Mas) 70 68 74 68, T Wiratchant (Tha) 70 70 69 71,
281 S Chawrasia (Ind) 69 71 71 70, M Manassero (Ita) 70 68 70 73, S Yates (Sco) 72 66 74 69, A Dodt (Aus) 71 65 74 71, A Levy (Fra) 67 70 73 71,
282 F Zanotti (Par) 68 69 75 70, H Stenson (Swe) 72 67 73 70,
283 M Southgate (Eng) 73 66 72 72, S Kim (USA) 71 69 71 72, J Wang (Kor) 70 70 70 73, A Connelly (Can) 71 69 73 70, R Ramsay (Sco) 71 68 73 71,
284 M Warren (Sco) 68 66 69 81, A Lascuna (Phi) 69 68 72 75,
285 J Smith (Eng) 70 68 74 73,
286 R Wannasrichan (Tha) 70 70 72 74, J Norris (Aus) 71 69 73 73,
287 K Horne (RSA) 71 68 74 74,
288 D Im (USA) 69 71 73 75,
214 C Hanson (Eng) 68 70 76 0, N Fung (Mas) 71 69 74 0,
216 B Leong (Mas) 69 70 77 0, C Pigem (Esp) 69 71 76 0, M Siem (Ger) 69 71 76 0,
217 R Karlsson (Swe) 68 68 81 0,
218 E Pepperell (Eng) 69 69 80 0,
219 D Clarke (Nir) 72 68 79 0,
141 H Porteous (RSA) 70 71 0 0, S Hend (Aus) 75 66 0 0, M Tabuena (Phi) 69 72 0 0, A Da Silva (Bra) 69 72 0 0, H Chien-Yao (Tpe) 70 71 0 0, J Veerman (USA) 71 70 0 0, J Scrivener (Aus) 71 70 0 0, N Srithong (Tha) 74 67 0 0, J Todd (USA) 72 69 0 0, L Bjerregaard (Den) 72 69 0 0, B Xiao (Chn) 68 73 0 0,
142 B Wiesberger (Aut) 71 71 0 0, T Olesen (Den) 73 69 0 0, T Kaewsiribandit (Tha) 68 74 0 0, Y Song (Kor) 73 69 0 0, A Vongvanij (Tha) 72 70 0 0, G Bourdy (Fra) 69 73 0 0, L Wenchong (Chn) 70 72 0 0, B Stone (RSA) 72 70 0 0, L Slattery (Eng) 72 70 0 0, M Shin (USA) 71 71 0 0, C O'Toole (USA) 70 72 0 0, A Björk (Swe) 71 71 0 0, P Saksansin (Tha) 74 68 0 0,
143 J Kruger (RSA) 71 72 0 0, D Burmester (RSA) 72 71 0 0, M Wafiyuddin (Mas) 69 74 0 0, L Wei-Chih (Tpe) 70 73 0 0, S Othman (Mas) 74 69 0 0, Q Quek (Sin) 73 70 0 0, A Quiros (Esp) 73 70 0 0, T Pilkadaris (Aus) 72 71 0 0, M Fraser (Aus) 72 71 0 0,
144 D Chia (Mas) 73 71 0 0, J Higginbottom (Aus) 75 69 0 0, R Paratore (Ita) 72 72 0 0, R Rock (Eng) 72 72 0 0, S Norris (RSA) 72 72 0 0, R Hie (Ina) 75 69 0 0, T Sinnott (Aus) 70 74 0 0, C S (Ind) 74 70 0 0, D Willett (Eng) 74 70 0 0, R Khan (Ind) 72 72 0 0,
145 P Waring (Eng) 73 72 0 0, P Tangkamolprasert (Tha) 72 73 0 0, N Elvira (Esp) 73 72 0 0, R Lee (Can) 74 71 0 0, A Sandhu (Ind) 74 71 0 0, J Lagergren (Swe) 73 72 0 0, A Irawan (Mas) 73 72 0 0, L Haotong (Chn) 74 71 0 0,
146 E Molinari (Ita) 73 73 0 0, N Lin (Mya) 74 72 0 0, S Brazel (Aus) 70 76 0 0, R Gangjee (Ind) 73 73 0 0, O Fisher (Eng) 73 73 0 0, A Que (Phi) 73 73 0 0,
147 J Quiban (Phi) 71 76 0 0, C Kumar (Ind) 75 72 0 0, M Wallace (Eng) 74 73 0 0, M Sasidaran (Mas) 72 75 0 0, S Rahman (Ban) 71 76 0 0, L Yuxin (Chn) 72 75 0 0,
148 K Baharin (Mas) 71 77 0 0, R Nachimuthu (Mas) 73 75 0 0, Y Chang (Kor) 75 73 0 0,
149 G Kim (Kor) 73 76 0 0,
151 A Zahari (Mas) 76 75 0 0, L Weber (Fra) 75 76 0 0, G Green (am) (Mas) 79 72 0 0,
152 K Kheng Hwai (Mas) 75 77 0 0,
153 S Ariffin (Mas) 75 78 0 0, W Ormsby (Aus) 78 75 0 0,
** S Yongcharoenchai (Tha) 78 RT 0 0, J Elson (Eng) RT 0 0 0,