Poom the 'Assassin' Meets Stenson Again at Maybank Championship
---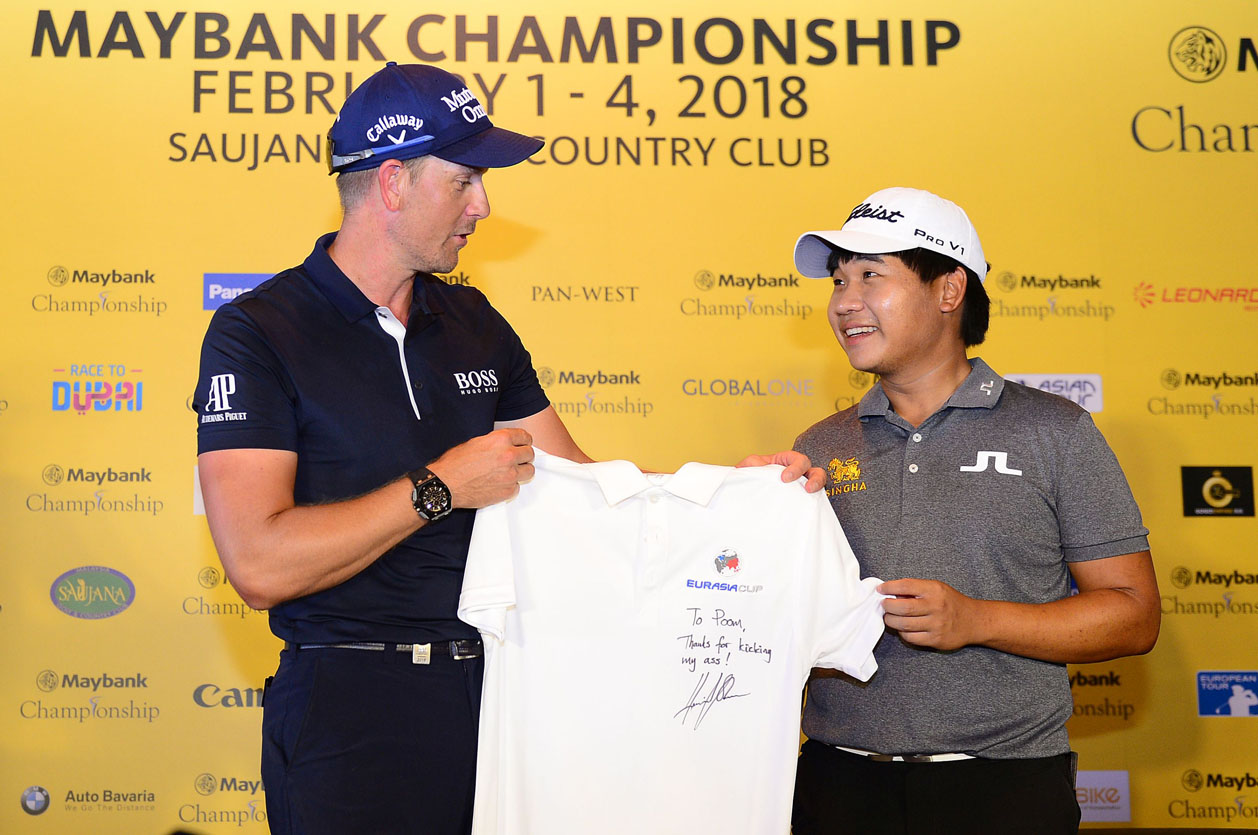 Poom Saksansin had a chance to say 'thank you' to Henrik Stenson of Sweden at the Maybank Championship after receiving a memorable gift from the Major champion earlier this month.

Poom met his golf idol Stenson at the EurAsia Cup in Malaysia three weeks ago and together with his teammate Sunghoon Kang, they caused one of the biggest upsets of the week by defeating the Swede and Alexander Levy 5&4 in the opening fourball match.

Team Europe eventually won the showdown but Poom emerged as one of the standout performers where he also defeated Paul Casey of England in the Singles match.

Despite his heroics in the tournament, Poom was still too shy to ask for an autograph and photo but Stenson was gracious to sign a shirt with the words "To Poom, thanks for kicking my @$$".

"We need to rename him assassin instead of Saksansin!" said Stenson, who will headline the US$3 million Maybank Championship which starts on Thursday. "Alex and I got a heavy beating there and deserved it."

"Afterwards I got one of the team shirts and signed it for him because I heard he is a bit of a fan. I don't think he needs to be shy at this point. He is a good player and they played fantastic the first round. They beat us fair and square," he added.

It was a simple but meaningful gesture by Stenson which Poom, a two-time Asian Tour champion, will remember and cherish for a long time to come. He also had a chance to take a photo with Stenson at the Maybank Championship today.

"I received this Henrik Stenson autographed shirt from Arjun Atwal in Singapore. I wanted to get it from Henrik at the EurAsia Cup but Arjun told me to beat him first and I did it. After that I was too shy to ask it from him," Poom recalled.

"I'm so happy Arjun helped me to get this autographed t-shirt. Henrik is my idol because he looks so cool and never smiles. I like him a lot because he is world class and he signed this shirt," he smiled.

World number 12 Stenson will be among the star studded names to play in the Maybank Championship at the Saujana Golf and Country Club. He will be joined by defending champion Fabrizio Zanotti and reigning Asian Tour number one Gavin Green.