China's Zecheng Dou Inspires Contenders at PGA TOUR Series-China Q-School
---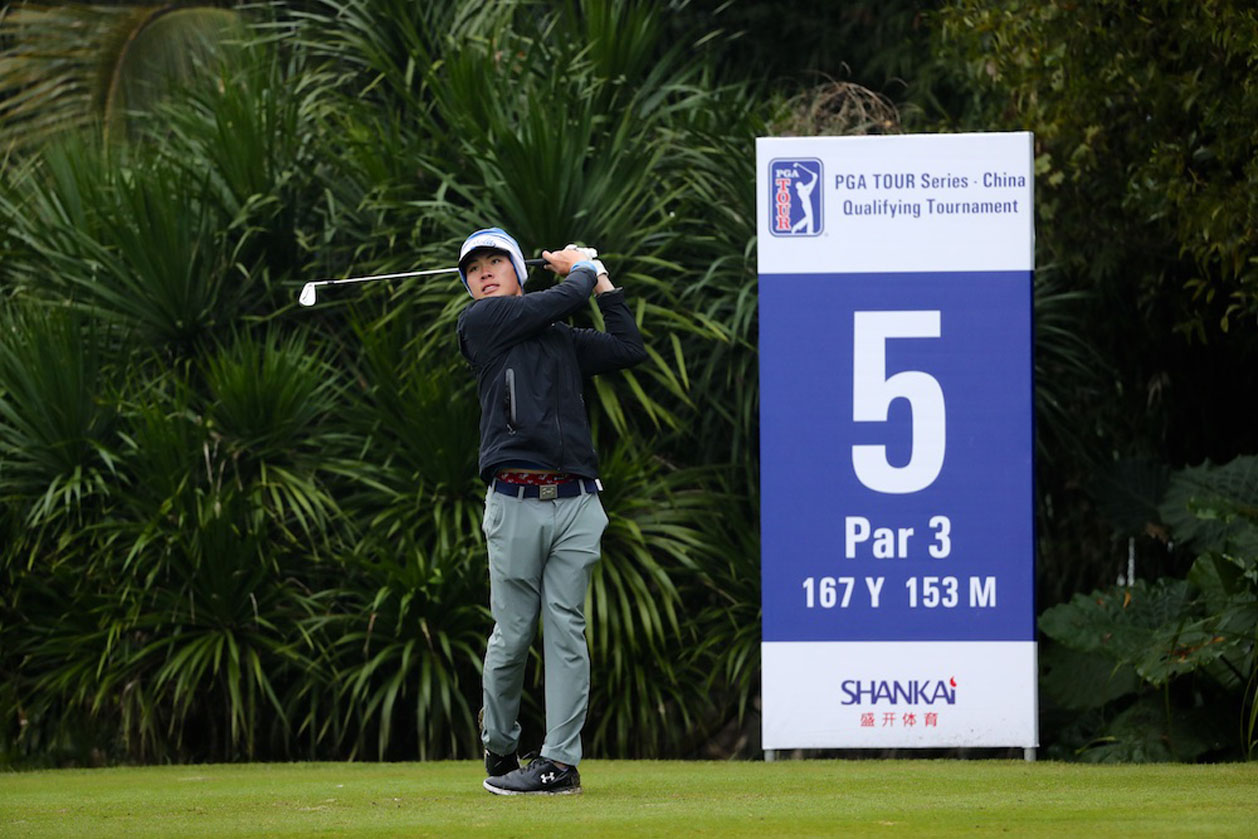 Luke Toomey hopes to eventually emulate current PGA TOUR player Zecheng Dou as the New Zealander competes in the PGA TOUR Series-China International Qualifying Tournament No. 1, which starts Thursday.

The top-15 finishers in the 72-hole tournament played over Mission Hills Haikou's Sandbelt Trails Course will earn a full card on this year's 14-event PGA TOUR Series-China, while the next 25 finishers will be conditionally exempt.

Toomey, who turned pro in January 2017, is in good form and confident of his chances as the 24-year-old aspires to follow the path taken by Dou and other players he competed with in his amateur days.

Dou, 21, won the 2016 PGA TOUR Series-China Order of Merit title to qualify for the 2017 Web.com Tour, where he and compatriot Xinjun Zhang earned membership on the 2017-18 PGA TOUR.

"I played with Zecheng in the 2013 Asia-Pacific Amateur, so it's awesome to see guys I played against now competing on the PGA TOUR. I also played with Bryson DeChambeau as an amateur, and he's made his mark on the PGA TOUR pretty quickly (DeChambeau won the 2017 John Deere Classic)," said Toomey, who finished third in the 2016 Asia-Pacific Amateur Championship in South Korea.

"It's exciting for me to see guys that I played so closely with do what they've done and get to where they've got. It makes getting onto those Tours so much more realistic for me."

The top-five on this year's PGA TOUR Series-China Order of Merit will earn a place on the 2019 Web.com Tour, the path to the PGA TOUR.

"I'm confident going into this week, and it's nice to be playing well again. I've had a really good start to this year," said Toomey, formerly New Zealand's top-ranked amateur.

"It's all about finding a pathway. The dream is to play in major championships and win those, so I'm going to do whatever I can to get myself starts in those events. The PGA TOUR Series-China is a great pathway to get onto a main Tour."

UCLA students Corey Shaun, 21, and Brandon Mai, 22, also say Dou is an inspiration. Shaun, whose parents are from Beijing (Shaun is a transliteration of Xiang), was born and raised in the U.S., and often played with Dou in San Diego when they were teenagers.

"For a couple of summers, we used to play together every day at the same home course, Morgan Run, when we were about 14 or 15. We'd go out and play in threes or fours with other golfers, including Zihao Chen, and have a good time," said Shaun, a 2017 All-America Scholar who will graduate from UCLA (University of California, Los Angeles) in March.

"Dou had an awesome progression to the PGA TOUR. It's kind of inspiring because I played with him so much growing up. He's around the same age as I am, and he's already made it this far, so it makes you think, why can't I do that."

Mai, whose parents moved from Vietnam to California in the 1970s, was a Pac-12 first-team All-Academic in 2015 and will graduate in March, when he hopes to embark on a professional career.

"I played with Zecheng in junior golf events in the U.S. and know him pretty well, so to see him have so much success out here and then play Web.com Tour and now PGA TOUR was really exciting. To be competing with him at the same level back then and to see him on the PGA TOUR now really gets me motivated," said Mai, whose elder sister Brittany also played golf at UCLA.

"Golf's really big over here in China and growing a lot, so I'm excited to be here and be a part of the game as it grows in Asia. I heard it's a really fun Tour, and ultimately my aim is to qualify for the Web.com Tour."

This week's event is the first of two back-to-back International Qualifying Tournaments for the 2018 PGA TOUR Series-China, which both filled up weeks ahead of the registration deadline.

The Mainland China Qualifying Tournament for China passport holders will be held at Wolong Lake Golf Club in Liuzhou City in Guangxi from February 27-March 2 (Tuesday-Friday).

After a one-year hiatus, PGA TOUR Series-China will resume in March, with a 14-tournament schedule, with each tournament offering RMB 1.5 million, a 25-percent increase over purse levels from 2016.

The PGA TOUR established PGA TOUR Series-China in 2014 as its third international developmental tour, following in the footsteps of PGA TOUR Latinoamerica and the Mackenzie Tour – PGA TOUR Canada. Since its inception, PGA TOUR Series-China players have received Official World Golf Ranking points for top finishes at official tournaments.