Published on January 4, 2022
Saudi's Golf Star Kicks off Schools' Tour of Saudi International Trophy Ahead of Landmark Tournament
---
Saudi Arabian school children will get up close with the prestigious Saudi International trophy as part of a tour ahead of the flagship tournament in February.
To celebrate the return of the 2022 Saudi International powered by Softbank Investment Advisers, along with golf's growing status in the Kingdom, the national tour will involve school visits from stars of the game and a Golf Saudi initiative to teach newcomers to the sport.
The innovative 'Starting New At Golf' (SNAG) certification programme includes all the basics of golf, helping to teach beginners and build-up their skills. SNAG has become popular globally, as it can be played both indoors and outdoors, ensuring anyone can learn, anyone can play, and anyone can teach golf – alongside the sport's core values.
Othman Almulla, Saudi Arabia's first professional golfer, launched the tour with a visit to Riyadh's Tarbiyah Namouthajiyah School bringing the trophy with him that was won earlier this year by American superstar and World Number 3 – Dustin Johnson.
Click here to view video as Othman Almulla launches schools tour
Almulla, who has just returned from playing in Thailand on the Asian Tour and the recent Saudi Open, shared his experiences of the game and helped join the coaching team to showcase the sport to 12–17-year-olds.
The 35-year-old will once again be part of 2022 Saudi International powered by Softbank Investment Advisers – which will present the strongest Asian Tour field ever when it takes place at Royal Greens Golf and Country Club, in King Abdullah Economic City (KAEC), from 3-6 February.
"I was very happy by Tarbiyah Namouthajiyah reception and welcome today, and particularly enjoyed the student's engagement," said Almulla.
"I hope to see a new generation of both male and female golfers representing the Kingdom of Saudi Arabia across the globe. We had a great opportunity today to share insights about golf, and particularly the important role that the Saudi International plays in promoting the sport in the Kingdom of Saudi Arabia. This is just the first step in many big steps coming to tell the community about the sport that I love.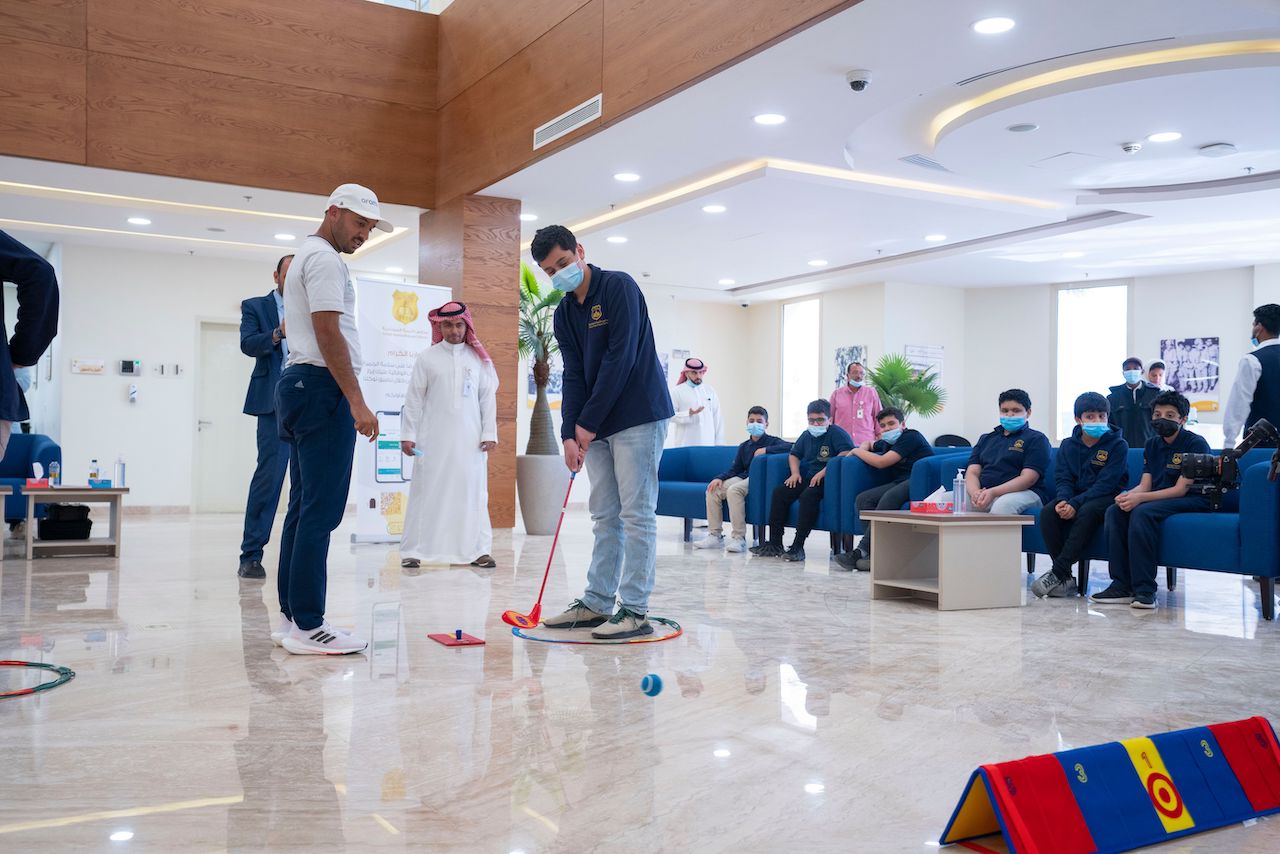 "I think the sport of golf is unique because it gives you the experience to test yourself every day. It teaches you patience, perseverance in tough conditions and resilience. While most sports do that as well, the tests that you see on the course are very similar to the ones these students have to get past in life."
Ali Bin Rajih Al Rajih, CEO of Tarbiyah Namouthajiyah School's Al Qirawan branch added, "Golf is considered one of the best individual sports out there. We are very proud to work with the great team at Golf Saudi and the Saudi Golf Federation as part of our partnership to promote the sport at our schools. We've witnessed massive interest from our students and their parents when we issued the invitation to start practising following the signing of our partnership. Today's engagement, attendance interest of the students is a clear testament to that."
Golf Saudi is spearheading one of the world's most progressive golf development strategies, with its Mass Participation programme forming the cornerstone of this strategy. The programme remains a top priority for the organisation as it seeks to attract and inspire the next generation of Saudis to take up the game and develop future home-grown champions. Ahead of 2025, Golf Saudi hopes to mobilise against meeting its targets of creating 2,200 jobs and developing approximately 29,000 new golfers by 2025.
Majed Al Sorour, Chief Executive Officer, Golf Saudi, commented: "Our goal is always to bring golf to as many Saudis as possible. We want to give young people an opportunity to develop skills and highlight golf's unique values that can aid their development – both in future careers and their everyday lives. Excitement is building towards our biggest ever Saudi International that will continue to impact the golfing landscape here and inspire more nationals than ever to engage in this amazing sport.