Column | Roger Rodrigo
Published on February 6, 2018
An Officer and a Gentleman Passes
---
The Malaysian Team to Taiwan. L-R Harris Zainal, Lim Siew Ai, Lim Ai Lian, Victor Lim and the late Tan Kok Kee.
Former MGA secretary Tan Kok Kee is fondly remembered
He was part of the generation of sports officials who deeply cared about their athletes and the well-being of the sport.
On Friday, January 19, 2018, one such official, Tan Kok Kee, the secretary for the Malaysian Golf Association (MGA) passed away at the age of 88, after a prolonged illness.
At an earlier meeting in 2016 with former MGA president Dato' Thomas Lee it was found that Kok Kee was already partially deaf. Yet despite his advanced age, Kok Kee continued to drive and attend golf events out of town.
Kok Kee took over the post from the late David Lee, who in turn took charge after the passing of Edmund Yong, who served the MGA for 22 years. Like the men before him, Kok Kee was actively involved with the association leading several national teams to events like the Asian Games, Nomura Cup and Putra Cup.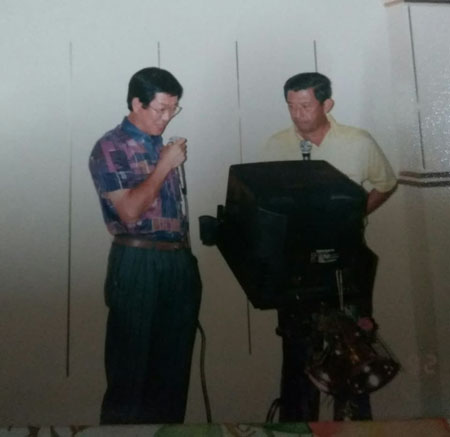 Tan Kok Kee loved Karaoke. Seen here with the Korean Team Manager at that time.
One of the national players who remember him well was double international Wong Hung Nung, who represented the country in football and golf.
"I spent four years playing for the national team. To me, Kok Kee was a true gentleman and concerned official. He was always talking to all the players and inquiring about our welfare," related Hung Nung.
"He was not regimented in his dealings with players. In 1989 the SEA Games was held in Malaysia at Saujana, and the team was staying at the hotel. I requested if I could come from home every day. He gave the okay trusting me to make my tee off time promptly," he added.
That year the Malaysian quartet of the late P. Gunasegaran, Johari Sulaiman, Saad Yusof and Hung Nung strode to the gold medal, denying strong opposition from Thailand and the Philippines. Malaysia finished with the team gold plus the individual silver and bronze from Guna and Hung Nung, an impressive outing indeed.
According to Hung Nung, Kok Kee was team manager of the national team that participated in the first-ever Asian Games in Beijing, China in 1990. The team did not figure in the medal tally where Malaysia finished with eight medals, two golds, two silvers and four bronzes.
Tan Kok Kee singing a duet with their host in Taiwan.>>
"He was always attentive to our needs. I think unlike in football where team managers rarely mix with players Kok Kee was always close," said Hung Nung.
Initial impressions of Kok Kee can be deceiving though. Malaysia's trailblazing LPGA veteran Lim Siew held this view.
"My first impression of Uncle Kok Kee was that of someone who was very intimidating. As a junior golfer his booming voice and strong personality was very overwhelming," she said candidly.
"Over the years I found Uncle Kok Kee to have a big heart for juniors and always tried to help them to the best of his ability.
"He always had a ready smile and would go the extra mile to help others. He will be greatly missed by all who knew him," concluded Siew Ai who spent 10 years on the LPGA tour.
Another former national golfer who fondly remembers him was Lim Ai Lian.
"He is a very good man who did a lot for Malaysian golf. He always gave us juniors lots of encouragement," she said.
Ai Lian related that Kok Kee took care of the juniors really well on overseas trips. On a playing trip to Taiwan, he made sure the players, besides playing, could also go sight-seeing as well.
"Uncle Kok Kee also loved karaoke," she revealed. Indeed one of the strongest aspects of Kok Kee's character was the ability to connect with people old and young.
My own impressions of the man was that of a dedicated official who never forgot to smile when talking to the press even though he was not entirely amused by some of our reports.
He told me once that my report was "a bit naughty" but still smiled, and we continued to have a great relationship. Whenever I needed more facts or information, he would try his best to furnish it or tell me ways how to get it.
In so far as his attendance and punctuality he was second to none. As I hear it he came from a background of top-class management and was formerly the general manager of Lever Brothers, then a leading name in the corporate world.
In some of my discussions with Dato' Lee, I found sadness in his voice when talk swirled to Kok Kee and his deteriorating health. This was the case of not just being officials in golf but also being friends as well.
The MGA of old was a tremendous body especially in the 80s when it was totally run by volunteers. It was unimaginable how this coterie of passionate golfers could run both the national body and the Asia Pacific Golf Confederation (APGC) which at that time was running the old Asian tour.
It boils down to two words –passion and dedication, traits that are absent from the current generation of officials.
I hope those who aspire to do duty for the national body will follow Tan Kok Kee's stellar example, a true officer of the sport and a gentleman always. Rest in peace, Mr. Kok Kee.
Photo credit: From the personal photo album of former national golfer Lim Ai Lian
---