Published on August 15, 2020
Tourism Selangor Sponsored Golf Tournament to be Played at Three Renowned Golf Clubs in the State from September 28-30, 2020
---
Tourism Selangor is determined to reset the state's tourism industry post-COVID-19, and one of its initiatives is to promote sports tourism, especially golf as the state is a renowned golf hub boasting 24 golf clubs. Tourism Selangor recently kicked off its domestic campaign Pusing Selangor Dulu and has decided to add value to it by title-sponsoring Selangor Golf Classic.
Joining forces with Liberty Golf Services, the first edition of the tournament, played on Modified System 36 format will feature 100 amateur golfers comprising of local citizens, the expatriate community as well as corporate and government bodies across the country. They will play on three of Selangor's prestigious and award-winning golf clubs for three competitive rounds of golf from 28-30 September 2020.
The practice and the first round will take place at Glenmarie Golf & Country Club and The Mines Resort & Golf Club, respectively, while Kota Permai Golf & Country Club will play host to the finals.
Mr Azrul Shah Mohamad in his speech at the press conference in Kota Permai Golf & Country Club said, "Tourism Selangor aims to penetrate the segmentation of sports and golf tourism, which poses a vast potential in drawing a significant number of tourists into the State, as well as contributes prominently towards the State's economy". The state ambitiously strives to achieve the 6 million mark in tourist arrivals in 2020.
According to Eushen Ng, the General Manager of Liberty Golf Services, the initial plan was for the tournament to be opened to foreigners as well, but the pandemic impeded their plans. The idea, he explained further, is to have the tournament played yearly and hopefully, by 2021, there will be international participation as well.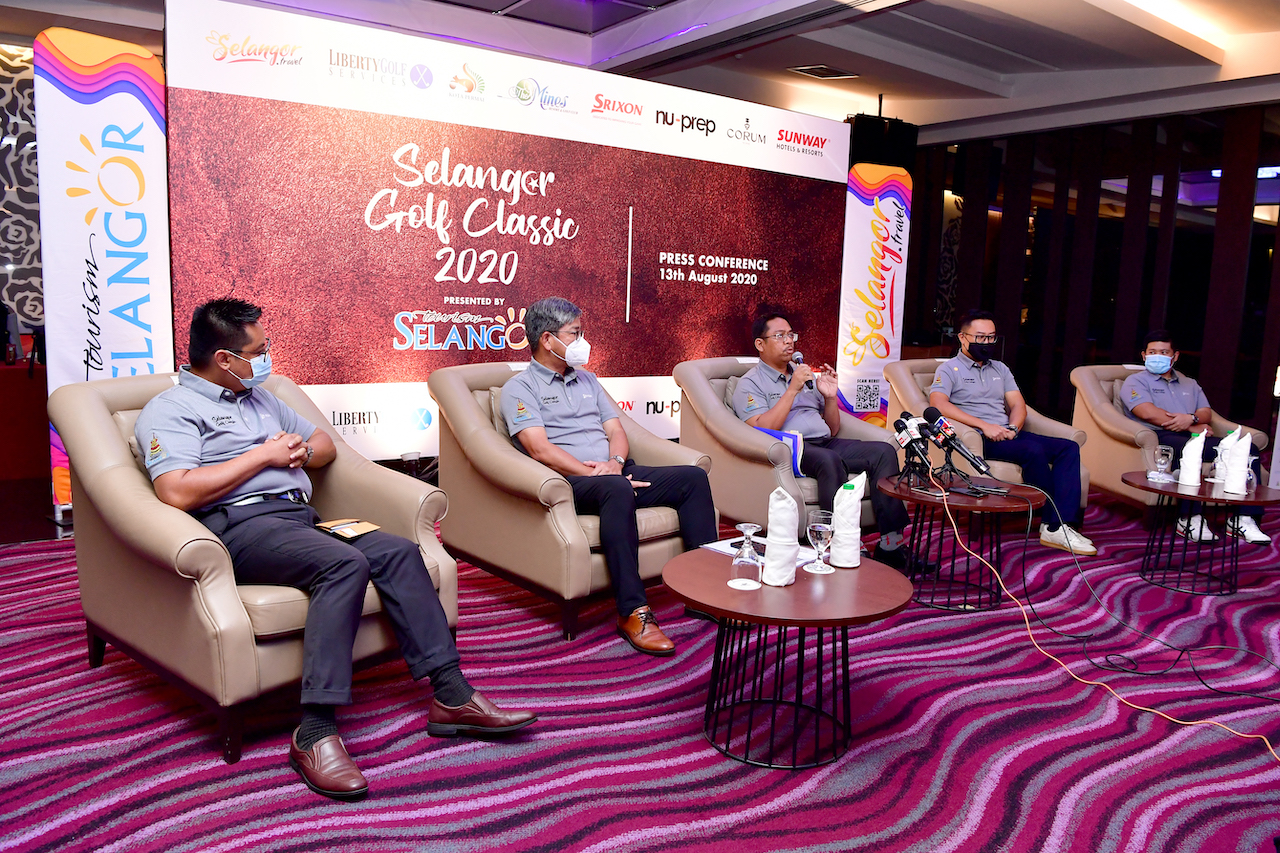 One of the highlights of the event will be the "Beat the Pro" segment at a Par 3 hole during the finals. Amateurs will have the opportunity to beat a pro either by hitting the bull's eye or striking a tee-shot that is closest to the pin. Aside from the booths by tournament partners and sponsors, there will also be a dedicated golf lesson for orphaned children.
As per the Covid-19 SOP, there will be a mandatory body temperature screening, self- declaration and check-in via mobile application, SElangkah and a strict requirement of mask usage for all golfers and supporters. The number of golfers per flight will be limited to four, a minimum of one caddy will be provided for every two golfers, and only two persons will be allowed on the buggy at a time.
Entry fee for the tournament is RM999 and participants will receive a goodie bag worth RM1,300 comprising of a Srixon Golf Cart Bag, a Srixon Golf Shirt,  Srixon cap and balls, ASICS Shoe Voucher, NPL 10s and NuCaffe 5s. Anyone who scores a Hole-in-One the 17th hole at Kota Permai Hole-in-One stands to win an RM50,000 Golf Holiday Voucher.
The entry form can be accessed at http://libertygolf.com.my/SGC2020