Published on March 21, 2019
Fraser and Elvira Take Control at the Maybank Championship
---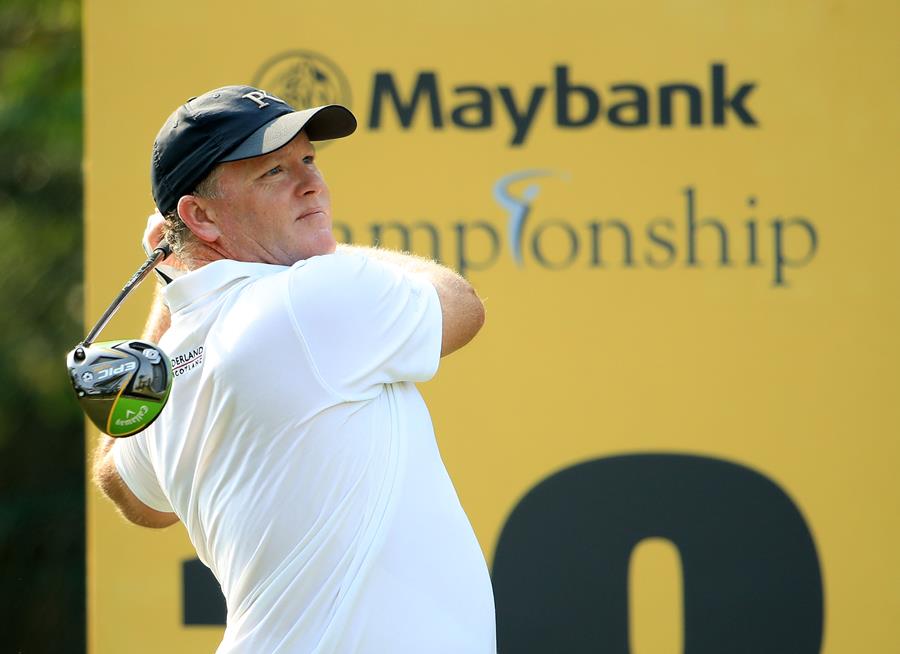 Australia's Marcus Fraser and Spain's Nacho Elvira took a share of the first round lead by returning with matching seven-under-par 65s at the Maybank Championship on Thursday.
Fraser, who won the inaugural Maybank Championship in 2016, surprised even himself with his position on the leaderboard after considering himself as a 'part-time golfer' nowadays. Ranked 345th on the Official World Golf Ranking (OWGR), the Australian has not broken into the winner's circle since that victory in Malaysia.
"It's been a good day. Played steady all day and putted really well. The new greens here, well they've done a great job. Unfortunately, they lost them last year. Unbelievable to be able to turn them around in 12 months. They've done a great job.
"The greens last year, by no fault of their own, they were diseased and they lost them. Now they have rebuilt them and they are fantastic. The course played a lot different last year. It's quite firm out there on the greens whereas last year the ball was plugging into the greens because of the surface. It was definitely a different golf course. It was enjoyable out there, nice to see the ball bounce and even on the fairways," said Fraser.
He added, "I've been playing well having a hit at home but I haven't played a whole lot of competitive golf. It was nice to go out and play well in a great tournament.
Spain's Nacho Elvira who hasn't had a good playing record in the tournament was happy with his first day's score 65.
"To be honest seven under is always good. With my record here not being too great, 65 is very good. It's tough, it's really humid. It's not as hot in the morning but it's really humid so it's tough to stay hydrated. My caddie told me today that I hit 12 fairways. I have been hitting my irons good and putting great, I just needed to put the ball in play. I wasn't able to do that the first few weeks (of the season) but I think I managed to do that in Qatar and also today. I'm happy the way things are going, happy to be turning around my golf game a little bit. We'll see where that gets me," he said.
Philippines' Angelo Que opened his campaign at the US$3 million event in a blistering pace, getting to nine-under after 11 holes.
Two double-bogeys on 15 and 16 knocked him off the perch of the leaderboard but he would finish the round just like the way he started with a birdie to trail Fraser and Elvira by one shot in a share of third place with Austria's Matthias Schwab and Thailand's Jazz Janewattananond at the Saujana Golf and Country Club.
Jazz showed why he is leading the Asian Tour Order of Merit with another assured performance. The three-time Asian Tour winner marked his card with seven birdies and a bogey for an encouraging 66 at the Malaysian showpiece.
"I didn't expect to play this well. Last year I didn't play all that well here but this year it seems like the course is better, I've enjoyed it more and I have a bit more confidence on the greens.I think that it plays into a different game plan. You can hit it into the middle of the green and try to make putts rather than going for every green. I enjoyed it a lot more," said Janewattananond.
He added, "I don't know what to expect. Last year it was like this as well, scoring was low and then it died off. I don't know about this year because the greens are better. It depends on who can handle the heat more."
South Africa's Ernie Els, who will captain the International team for this year's Presidents Cup, signed for a 68 to share seventh place together with seven other players that include India's Gaganjeet Bhullar, Australia's Zach Murray, Thailand's Poom Saksansin and Malaysia's Nicholas Fung.
Round one scores
65 N Elvira (Esp), M Fraser (Aus),
66 M Schwab (Aut), A Que (Phi), J Janewattananond (Tha),
67 T Pieters (Bel),
68 B Stone (RSA), G Bhullar (Ind), P Meesawat (Tha), Z Murray (Aus), E Els (RSA), D Burmester (RSA), P Saksansin (Tha), N Fung (Mas),
69 D Masrin (Ina), S Chawrasia (Ind), R Gouveia (Por), L Herbert (Aus), B Hebert (Fra), A Pavan (Ita), J Suri (USA), T Pilkadaris (Aus), S Hend (Aus), C Bezuidenhout (RSA), M Kawamura (Jpn),
70 S Rahman (Ban), R McEvoy (Eng), T Detry (Bel), P Harrington (Irl), V Madappa (Ind), S Vincent (Zim), P Peterson (USA), K Kitayama (USA), O Fisher (Eng), J Campillo (Esp), M Kinhult (Swe), N Colsaerts (Bel), T Smyth (Aus), S Park (Kor), S Kim (USA),
71 Y Miyazato (Jpn), A Quiros (Esp), C Paisley (Eng), C Wood (Eng), K Horne (RSA), S Sharma (Ind), A Wu (Chn), R Fox (Nzl), E Van Rooyen (RSA), S Norris (RSA), M Choi (Kor), R Roussel (Fra), D Boonma (Tha), M Kieffer (Ger), R Karlsson (Swe), R Ishikawa (Jpn), J Dantorp (Swe), L De Jager (RSA), J Higginbottom (Aus), G Migliozzi (Ita), B Wiesberger (Aut), S Ariffin (Mas),
72 P Khongwatmai (Tha), Y Chang (Kor), D Chia (Mas), A Rai (Eng), G Coetzee (RSA), T Jaidee (Tha), R Jacquelin (Fra), K Broberg (Swe), A Chesters (Eng), D Lipsky (USA), A Sandhu (Ind), J Veerman (USA), A Sullivan (Eng), M Lorenzo-Vera (Fra), P Tangkamolprasert (Tha), F Zanotti (Par), A Da Silva (Bra), R Fisher (Eng), L Slattery (Eng),
73 S Yongcharoenchai (Tha), M Kokocinski (Swe), T Bjørn (Den), R Rock (Eng), A Otaegui (Esp), A Atwal (Ind), M Korhonen (Fin), M Lee (Aus), K De Silva (Mas), D Kataoka (Jpn), D Law (Sco), S Mizuno (Hkg), R Paratore (Ita), W Lin (Tpe), J Todd (USA), E Molinari (Ita), J Scrivener (Aus), T Pulkkanen (Fin), K Joshi (Ind), W Lu (Tpe), J Wang (Kor), A Björk (Swe), M Pavon (Fra),
74 J Smith (Eng), J Catlin (USA), B Henson (USA), M Shin (USA), S Brazel (Aus), J Yap (Sin), R Nachimuthu (Mas), D Howell (Eng), D Nisbet (Aus), B Leong (Mas), H Ryu (Kor), M Southgate (Eng), Y Inamori (Jpn), R Wannasrichan (Tha), J Kruyswijk (RSA), C Nirat (Tha), S Gallacher (Sco), J Kruger (RSA), G Green (Mas),
75 C S (Ind), R Wattel (Fra), J Poh (Sin), S Brown (Eng), M Jiménez (Esp), B Campbell (Nzl), W Ormsby (Aus), Y Aung (Mmr), P Marksaeng (Tha), J Norris (Aus), S Kjeldsen (Den), W Choo (Mas), P Pittayarat (Tha),
76 R Gangjee (Ind), D Fichardt (RSA), S Othman (Mas), A Irawan (Mas),
77 N Srithong (Tha), S Kapur (Ind), H Tanihara (Jpn), N Bertasio (Ita),
78 L Kim (Mas),
79 P Larrazábal (Esp), M Tabuena (Phi),
80 S Chan (Tpe), R Lee (Can), A Arnaus (Esp), A Nazrin (Mas),
81 K Baharin (Mas), Y Ikeda (Jpn), J McLeod (Aus), T Kaewsiribandit (Tha),
** T Sinnott (Aus),