Published on January 28, 2018
Fundraising on the Fairways
---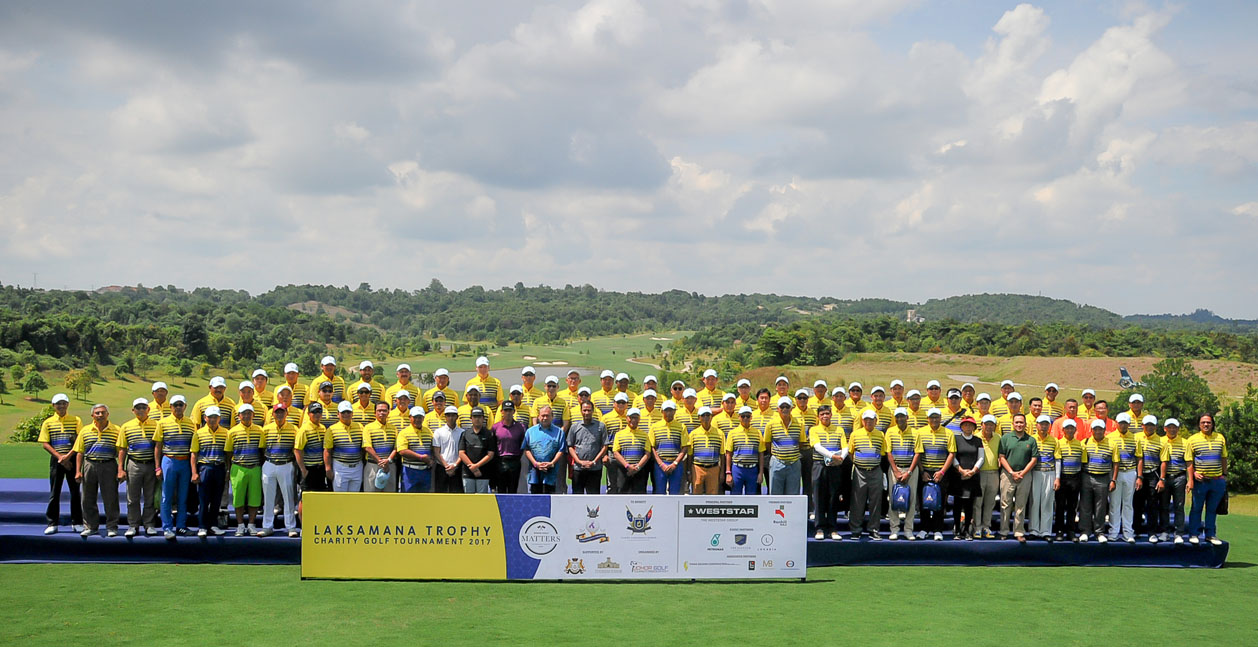 A day of golf and networking at the Laksamana Trophy Charity Golf
The stunning Els Club Desaru Coast played host to the second edition of the Laksamana Trophy Charity Golf Tournament recently. A total of 128 avid and prominent corporate partners and sponsors from Johor and Kuala Lumpur as well as the community members turned up for a spectacular day of golf, networking, and fundraising.
The Laksamana Trophy organised by Johor Golf Tourism Association (JGTA) was officiated by His Majesty Sultan Ibrahim Ibni Almarhum Sultan Iskandar who also participated in the tournament. The one-day golf event offered golfers the opportunity to play on one of the most renowned and prestigious courses designed by the former World No: 1, Ernie Els of South Africa.
The proceeds of the Laksamana Trophy, named after the late Tunku Laksamana of Johor, HH Almarhum Tunku Abdul Jalil Iskandar Sultan Ibrahim will benefit the Tunku Laksamana Johor Cancer Foundation.
The Tunku Laksamana Johor Cancer Foundation was officially launched on August 6, 2016 by His Majesty Sultan Ibrahim Ibni Almarhum Sultan Iskandar at Persada International Convention Centre, Johor Bahru, for the purpose of helping cancer patients in need of financial aid and treatment. His Majesty Sultan Ibrahim Ibni Almarhum Sultan Iskandar is the Royal Patron, while HRH Raja Zarith Sofiah Binti Almarhum Sultan Idris Shah is the Chairperson of the Foundation.
The Tanglin Group emerged the overall best team champions for this year's tournament. The runner-up prize went to MB World Group Bhd. Absolute Thai Sea Cuisine finished in third place.
The champion of the individual category was Normiza Shahman Ab Aziz from MB World Group Bhd. Amir Shariffuddin Abd Raub who is also from MB World Group Bhd finished second while Jonas Lind from Tanglin Group finished third.
The winners of Nearest to the Pin were Zainal Ashikin and Joey Azman; Longest Drive went to Jonas Lind and King Siong Kwang; Nearest to the Line winners were Yusri Anuar Ahmad and Mohd Anizam Jamain.
One of the highlights of the night was the auction of a Rolex Cosmograph Daytona watch donated by His Majesty Sultan Ibrahim as part of the fundraising activities on that day. His Majesty Sultan Ibrahim then bid for the same watch for RM1 million to be donated to the Foundation. Additionally, there was also one Luis Erard watch sponsored by Watatime and Datuk R. Doraisingam Pillai, the Lotus Group of Companies Chief Executive Officer, bid for it at RM11,000.
In the spirit of giving, there were some companies and individuals who had come forward with pledges for the Foundation. The main highlight was the presentation of a mock cheque, which was presented to His Majesty Sultan Ibrahim by Tan Sri Esa Hj Mohamad, tournament's organising chairman, to conclude the event. A total of RM3.158 million was raised with the participation and the auction.