Published on December 10, 2020
Honma Completes the TR Family with the TR21X Irons, TR21 Fairways and Hybrids
---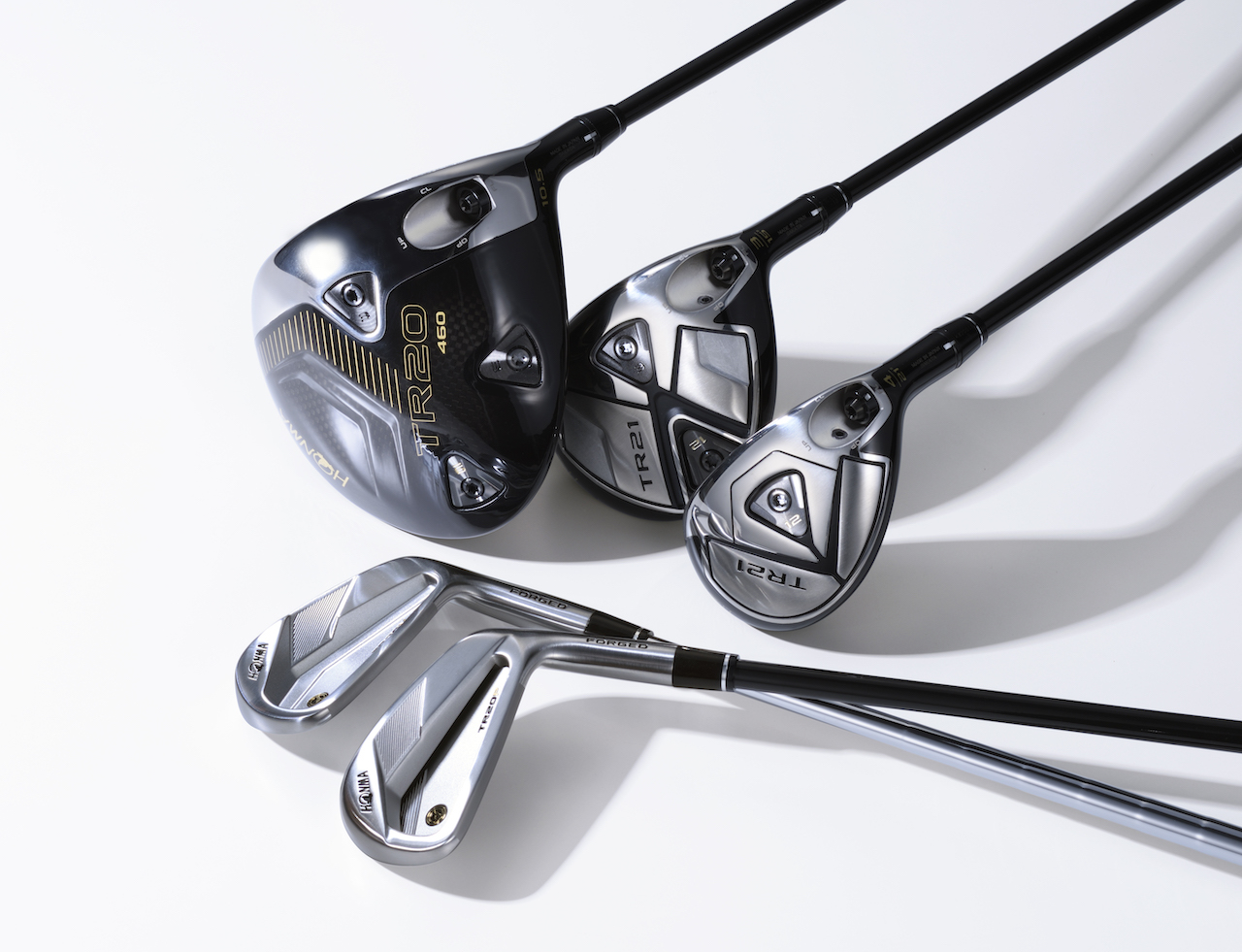 For the past several months, Honma has been turning heads with its premium-performance TR20 drivers and irons. Now, the Japanese and the U.S. development teams have launched four new products with exceptional performance to round out the TR family – TR21X Irons, TR21 Fairways and TR21 Hybrids. Targeted at competitive to mid-handicap golfers, the TR line is a full family of clubs that players can trust from the tee or approaching the green.
The new TR21 designs combine 60 years of expert Japanese craftsmanship with the cutting-edge construction and performance-forward thinking expected in the North American market. Honma's TR21 and TR20 products combine in perfect harmony the things that premium performance golfers want—beautifully-crafted looks, great sound, solid feel, fast ball speed and playability that makes the game easier and more enjoyable.
"With these exceptional new TR21 products completing our TR family, Honma offers more ways for golfers to experience our unique brand," says Chris McGinley GM of North America.
"Japanese brands are world-renowned for making forged irons preferred by discerning golfers. Honma delivers that special look-feel-performance combination across metalwoods, modern multi-material players distance irons and traditional solid forgings. If you are looking for something different yet pleasingly familiar, you owe it to yourself to give Honma TR a look."
NEXT-GENERATION PLAYERS DISTANCE IRONS
Honma gained attention when its T//World TW-X irons were named MyGolfSpy.com's "Most Wanted Players Distance" Iron earlier this year. Now the venerable brand has taken the playable players distance concept to new heights. Golfers seeking high launch, long carry distance and spin control have a beautifully-crafted option in the new TR21X iron with a back design styled after the tour-validated TR20B and internal construction that produces exceptional ball flight.
"The distance iron category is the fastest growing iron segment and the TR21X makes a bold statement of looks, sound, feel and flight that will bring a lot of confidence to players who put this full set in play," says Mark Myrhum Director of Global Product. "Golfers can also take advantage of the exceptional long- and mid-iron playability and combine it with Honma's high-performance TR20P, V or B irons."
Shaped like a beautiful blade iron with a slightly longer confidence-building shape, the hollow design has a heavy internal tungsten bar low in the clubhead which allows Honma's team to move the TR21X's centre of gravity as deep and low as possible. The design increases launch and improves the club's MOI for higher initial launch with less twisting on off-centre hits. The TR21X's high-strength steel, thin, fast L-Cup design, increases speed while the injected foam inside the hollow body construction optimizes its feel and acoustics.
The tungsten bar gets heavier as the club's lofts increase 50 grams in the 6 and 7 irons and 73 grams in the 8, 9, 10 and 11 irons. This amount of tungsten provides tremendous stability and solid feel. The TR21X iron features the strongest lofts in the TR line, which work ideally with the high-launch, high-MOI design of this forgiving distance iron.
TR21 FAIRWAYS AND TR21 HYBRIDS BRING IMPECCABLE LOOKS AND SHOT CONTROL
The first thing golfers will notice about TR21 Fairways and TR21 Hybrids is their compact and classic profile. Designed for golfers who want a narrow-bodied fairway and hybrid for crisp turf interaction, shot making and trajectory control. Akin to a beautiful forged blade iron, these elegant new fairway clubs provide exceptional performance and modern adjustability in a size, look and shape that many equipment companies seem to have forgotten.
The TR21 Fairways feature an SUS630 steel body and an ultra-thin, high-strength steel face to deliver maximum ball speed. Two adjustable sole weights allow the player to set them up for higher launch, or a more penetrating low-spin trajectory. The two sole weights combined with the smaller profile and shallow face provides exceptional feel and speed through the turf.
TR21 Fairways come in 15- and 18-degree lofts with high-performance Honma Made-in-Japan Sakata VIZARD shafts in 50-gram weight. Honma's patented non-rotating hosel system allows loft and lie to be adjusted +/- 1 degree while keeping the shaft spine optimized.
TR21 Hybrids feature a beautifully simple, compact profile that inspires confidence to hit long approach shots close to the pin. Designed for crisp turf interaction to mimic the feel and flight of a well struck iron shot, TR21 H will help golfers hit more greens from a variety of distances and lies. An SUS630 body and thin high-strength steel face with variable-thickness design delivers hot ball speed while a centrally-located sole weight optimizes the CG for solid feel.
TR21 Hybrids is available in 18- and 21-degree lofts with high-performance Honma Made-in-Japan Sakata VIZARD shafts in 65-gram weight. Honma's patented non-rotating hosel system allows loft and lie to be adjusted +/- 1 degree while keeping the shaft spine optimized.
"The TR21 F Fairways and TR21 H Hybrids inspire serious shot-making and back it up with excellent speed off the clubface and desirable ball flight control," says Myrhum. "All golfers, but particularly those looking for a compact shape that suits their eye, will appreciate the artful craftsmanship of TR21 F fairways and TR21 H hybrids."
The TR21 additions to Honma's TR family continue to take Honma into its next generation of innovation and supremely-crafted performance.
The Honma TR21 line-up is available from MST Golf stores. MST Golf is the exclusive distributor for Honma.
SRP: TR21 Fairways: RM2,100, TR21 Hybrids: RM1,859, TR21X Irons (6 Iron – 11 Iron): RM7,100