Published on April 25, 2019
Callaway and European Tour Premiere 'Tour Tips' Instructional Series
---
The European Tour and Official Partner Callaway have collaborated on an all-new series of golf instructional videos called 'Tour Tips'.
Episode One features European Tour player and Ryder Cup star Alex Noren, who lifts the lid on his secrets to success in 'How to hit a fade'.
In the inaugural episode of the new series, ten-time European Tour winner Noren exclusively reveals why alignment, clubface position and angle of attack are crucial in hitting a consistent fade.
Released bi-weekly throughout the year, Callaway Tour Tips will showcase invaluable insight thanks to unparalleled access to a host of different world-class professional golfers from Callaway and the European Tour.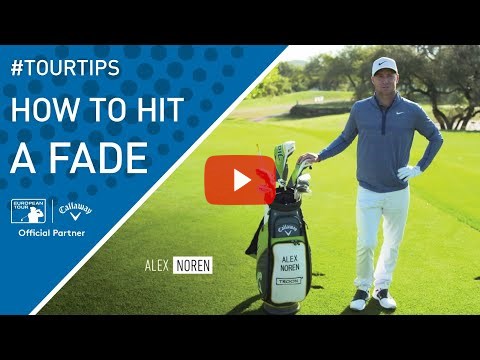 Utilising high-level camera technology, tournament archive footage, bespoke drills and personalised advice from other top pros such as Major winners Sergio Garcia, Francesco Molinari, Henrik Stenson and Danny Willett, plus many more, Callaway Tour Tips will work through a large range of instructional topics suitable for amateur golfers from the beginner to intermediate and the advanced.
Neil Howie, President & Managing Director of Callaway Golf Europe, said: "Our Staff Professionals receive their advice and insights from some of the best coaches in the world, and we thought it would be a great idea to share their incredible knowledge and world-class skills with European Tour golf fans, effectively giving everyone a free lesson from their golfing idols!"
Rufus Hack, Chief Content Officer of the European Tour, added: "We were thrilled to bring Callaway on board as an Official Partner earlier this year, not only because of their dedication to high-performance golf products but also our shared commitment to delivering best-in-class content to golf fans around the world.
"We are excited about the launch of our new collaborative Tour Tips series and hope the insight provided by some top European Tour professionals will prove useful for golfers of all abilities."
Leading golf brand Callaway was announced as Official Partner to the European Tour for the next five years in January this year in a wide-ranging agreement across the Callaway owned brands.
Callaway is the official driver, golf ball, shoe and golf bag brand of the Europe Tour; Odyssey and OGIO are the official putter and luggage brands respectively; and Callaway Apparel, plus the 'new to Europe' Travis Mathew brand, are the official on-course apparel of the European Tour.
As well as Official Partner status, Callaway is also supplying its market-leading Chrome Soft Golf Balls to driving ranges at European Tour events.