Published on January 29, 2019
Bryson DeChambeau Captures First International Victory with Cobra's New King F9 Speedback Driver in the Bag
---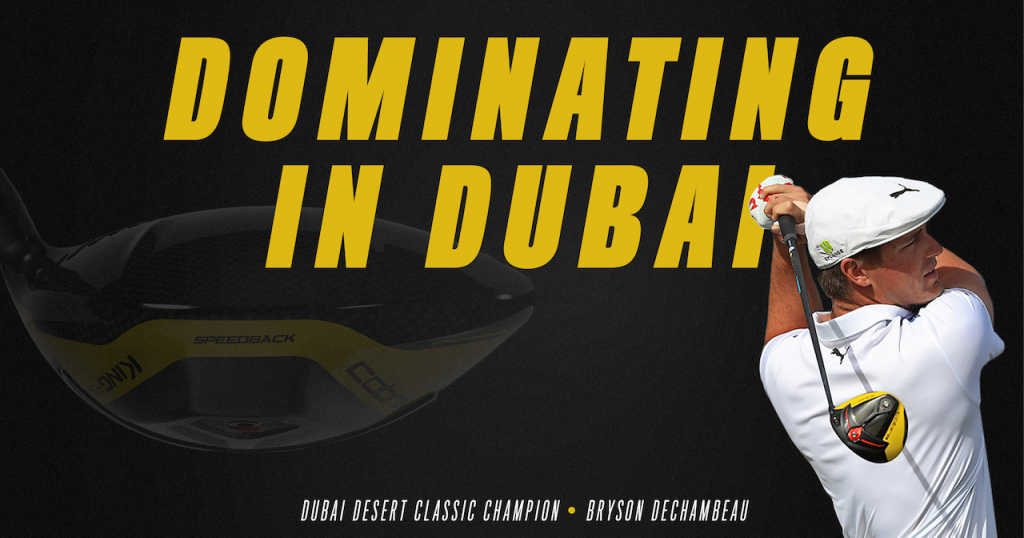 Bryson DeChambeau dominated the field at the Dubai Desert Classic, cruising to his first international victory, sixth professional victory, setting a new tournament record 24-under par, in the process. DeChambeau, a Cobra Puma Golf ambassador, shot a stunning 8-under 64 in the final round to finish seven strokes ahead of the nearest challenger, equipped with Cobra's highly-anticipated King F9 Speedback driver and Forged One Length irons in the bag, and dressed head-to-toe in apparel, accessories and footwear from Puma Golf, including the celebrated PWRADAPT Leather golf shoes.
DeChambeau's King F9 driver, made its debut in his bag the same week as his win at the Shriners Open. The driver features the brand's breakthrough SpeedbackTechnology, which, for the first time in golf, successfully combines a highly aerodynamic clubhead shape with low CG.
Speedback is a game-changing advancement in the way a driver is engineered. The combination of an efficient aerodynamic shape and an engineered weight structure on the sole improves club speed while maintaining a low, deep CG to create the most efficient transfer of energy to the ball. Utilizing a CNC Precision Milled Face, created using industry-leading face manufacturing technology, allows for a thinner and hotter face design that has shown ball speed increases up to 1.5 mph when tested against a traditional, hand-polished face.  These technologies fuse to deliver the ultimate formula for speed and extreme distance.
Details of the Cobra clubs in DeChambeau's bag at the Dubai Desert Classic:
Driver: King F9 SpeedbackDriver 9° | TPT Model 14 MKP LT | 45.5″
FWY: King LTD 3/4 Fwy; 14.5 degrees | True Temper HZRDUS Black | 85x @ 43″
FWY: F8+ Baffler 5wd | 17.5 degrees | True Temper HZRDUS Black | 85x @ 41"
Irons: Cobra King One Length Utility (4 &5) | Forged One Length | 6-P | True Temper X7 | 37.5″ for all
Wedges: Cobra King V Grind | 50° | King WideLow Grind 55° and 60° | True Temper X7 | 37.5″ for all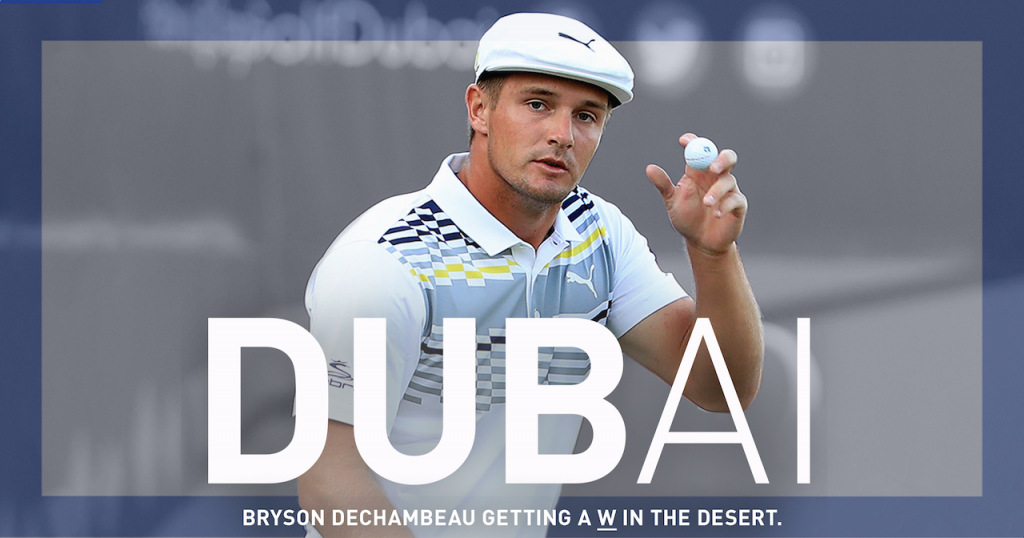 DeChambeau's Puma Golf apparel, accessories and footwear are from the brands 2019 Spring Summer Collection:
IGNITE PWRADAPT Leather Shoes– this is Bryson's fifth win wearing these shoes that feature revolutionary and proprietary PWRADAPT Technology for more traction with every move. Additionally, the shoes deliver sophisticated style and crazy comfort with a premium leather upper combined with a mesh hybrid bootie lining for an excellent fit.
Rotation Stripe Polo his winning Sunday pick delivers classic style with performance elements needed for the course. dryCELL technology draws sweat away from the skin, for added comfort.
And his signature TOUR Driver Cap: Dapper and distinctive, the Driver Cap can be styled for any on or off-course occasion. Features include a moisture-wicking performance sweatband to protect sweat from affecting your game and a classic brim designed to shield your face from the sun.