Published on November 15, 2018
Kota Permai Golf & Country Club Scores Historic Big Wins at 2018 World Golf Awards & Asian Golf Awards
---
Kota Permai Golf & Country Club (KPGCC) made a clean sweep of Malaysia's Best Golf Course awards at both the 2018 World Golf Awards and Asian Golf Awards ceremonies which were held at the La Manga Club in Madrid, Spain and the Hyatt Regency Bangkok Sukhumvit in Thailand, respectively.
This is the fourth World Golf Awards crown for KPGCC with the first bestowed in 2014, and the Club has successfully held on to its three-year reign as the nation's best for the past three years.
Over at the Asian Golf Awards, a four-year wait was brought to an end when KPGCC reclaimed its spot as Malaysia's best after consecutive first runner-up honours were accorded since 2015. Adding to the celebration was the inaugural induction of Club Director Tang Meng Loon into the Awards' Legion of Leaders – a privileged seat for only 10 of Asia's best. Also raking in an award was KPGCC caddie Emia Nawarita who was second runner-up in the Best Caddie category.
KPGCC's victories at both the World Golf Awards and Asian Golf Awards stages will go down in the club's 20-year history as a first double grand slam of these prestigious awards.
Meanwhile, KPGCC's sister club Horizon Hills Golf & Country Club (HHGCC) also proved a strong contender in several categories up for grabs at the 2018 Asian Golf Awards, with the highlight being coming in as first runner-up for the Best in Malaysia Award. Other awards bagged were by Ong Seng Kiat and Evelyn Wong who claimed first runner-up honours in the Best Golf Manager Of The Year and Best HR Manager Of The Year categories, respectively.
"This has been an amazing year for us with both our golf properties taking top coveted spots in the Best in Malaysia category at the Asian Golf Awards. And with KPGCC recognised at the World Golf Awards as the Best Course In Malaysia for the fourth time in the WGA's five-year history, and also at the Asian Golf Awards – the recognition marks a first-ever double win in our 20-year history. We are extremely happy with these achievements which have capped off 2018 on a very exciting note and provided the icing on KPGCC's 20thanniversary birthday cake," said a very delighted Tang.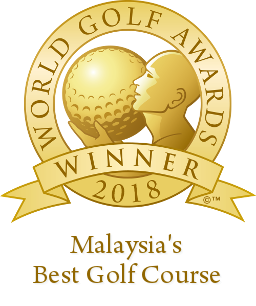 "These awards would not have been possible without the support of our members, partners, families and friends, and the tireless effort, dedication and perseverance of the management and staff of both clubs. Indeed, awards like these are testament to all the effort that we have placed over time in moulding our clubs into the award-winning establishments they are today. And awards like these are also our source of motivation in continuously bettering ourselves, our golf course and our facilities so that we are the best in the country," added Tang, who has served both clubs for a collective 11 years to-date.
After months of balloting worldwide and facing fierce competition from other top clubs in the country, KPGCC bulldozed numerous nominees, all vying for the prestigious awards, with HHGCC following close behind in its wake.
Designed by Ross Watson, both courses feature an 18-hole masterpiece of a golf course with pristinely manicured lawns set over undulating terrain which pose challenging hazards that astounds both the veteran and the novice, especially with green speeds running between 10.5 and 12 on the Stimpmeter.